Great News!
Adaptive eClinical Bus helps streamline IRT integration.
We deliver accurate, efficient, and
validated data interoperability,
with the flexibility to use the best
software tools for your study!
Guess what? They found us!
Adaptive eClinical Bus® helps ERT improve
real-time clinical data integration.
Thinking about a new data integration strategy for your clinical trial? Read this first.
A Simple, Validated, and Cost-effective Solution for

Clinical Data Integration
If you are a CRO, Trial Sponsor (Pharmaceutical or Biotechnology Company), Investigator-Initiated Trial, Hospital or Academic Research Center, or a Core Laboratory struggling with integration of clinical study data from multiple systems and platforms, Adaptive Clinical Systems offers a simple, secure, validated, compliant (FDA CFR 21 Part 11 and GxP), and cost-effective solution for clinical data integration.
Electronic Data Capture (EDC)
Electronic Medical or Health Records (EMR/EHR)
Clinical Trial Management System (CTMS)
Medical Imaging
ePRO®
Interactive Web Response System (IWRS)
Analytical/Data Visualization Systems
Electronic Trial Master FIle (eTMF)
Simplify Your Clinical Data Workflow
Single-Sourced Data
Users gain access to any data source to view up-to-the-minute, real-time data from any integrated software system. This eliminates the need for costly source data verification steps as the data are directly captured from the source systems.
Adaptive Rules Engine – Not Just Edit Checks
Build in clinical intelligence to avoid human error associated with transferring data among disparate systems. In addition, you can personalize the rules by building clinical derivations and embedding your own clinical "know-how", making efficient use of subject matter experts on staff.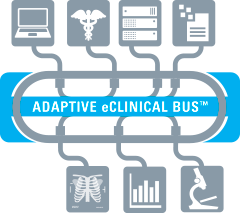 Clinical Trials Interoperability with Standards
CDISC, HL7, SAS export modules simplify downloading data to all major post-study analysis tools. Data are maintained in native CDISC format at all times, allowing you to see interim "snapshots" of data in a standardized form. An open-source BI/Analytics tool is also available.
Confidence in Your Data
Automated data checking, data validation rules, and optional standards coding features (MedDRA and WHO Drugs) save time and significantly reduce data entry errors related to CRF data entry. Data are maintained in native CDISC XML format at all times.
Adaptive Standard Operating Procedures for software development and systems validation are robust and proven—and align with the highest industry standards. The Adaptive eClinical Bus is fully compliant with FDA CFR 21 Part 11 and other regulatory guidelines (HIPAA, GxP). The Adaptive eClinical Bus ensures continual software and technology upgrades and service updates in a fully validated environment.
This pre-validated service enables the fastest study setup (<2 weeks), including custom electronic CRFs, and most robust protocol integration for studies of varying complexity. You can easily import existing eCRF templates using MS Excel. Independent Audits of Adaptive eClinical Bus demonstrate clear customer benefits, including reuse of all design content, regardless of EDC; and reduction in study setup time; data management, transformation, and aggregation; source data verification time, and resources.
The Adaptive eClinical Bus leverages trusted open-source components and global delivery models. The service is scalable and flexible to meet your specific data integration needs and budget restrictions and requires no capital investment with minimal IT involvement.
A pay-as-you-go subscription model allows you to lease capabilities and modules based on the needs of a specific study protocol only when and for how long (weeks, months, years) you need them. You pay for access only while your study is in progress, enabling you to maintain little or no IT overhead between studies.
The Adaptive Scalable EDC is available for hosting smaller studies for use as a data monitoring and trial management dashboard, or for data consolidation for larger multi-EDC studies.  It is available already integrated with the eClinical Bus, or you can replace it with your preferred EDC solution.
Maintain Regulatory Compliance & Close Oversight
All data are housed in the strictest compliance with all privacy and security provisions of HIPAA, the process quality guidelines of GxP, and requirements of 21 CFR Part-11. Detailed audit logs and reports enable review and oversight of all data at any time.
Leverage Hosting Capability
Adaptive can even "host" your proprietary system—using a software-as-a-service (SaaS) model—for rapid deployment to as many sites as needed without any IT involvement and with the lowest total cost of ownership (TCO). All servers are housed at a Tier-1 data center maintaining SSAE 16 SOC1 (supersedes SAS 70 Type II audit) certification and meeting ISO20000-1, and ISO/IEC 27001:2013 standards for service and information security. Data Center Statement and associated documentation are available as part of vendor audit.
Consult with Experts 24/7
The Adaptive Help Desk is available 24/7, and a dedicated IT Project Manager will coordinate all setup.
Request a demo