The Clinical Data Interchange Standards Consortium (CDISC), FDA and the clinical trial industry are converging on ways to streamline and "…modernize the clinical research system." With increasing adoption among clinical trials, research sponsors and investigators, clinical trial operations are taking note and heeding more clearly defined standards around collecting data on critical diseases that facilitates regulatory submissions and reporting adverse events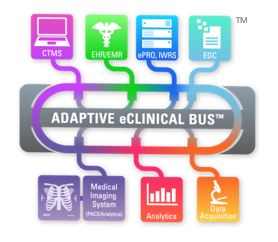 Jill Wechsier wrote in her October, 2016 article titled CDISC Standards Key to Meeting FDA Regulations, Research Goals, "Many sponsors already are submitting applications to FDA that conform to the electronic Common Technical Document (eCTD) format." Indeed, it seems that the industry has caught to the notion that such heightened standards are here to stay, yet there needs to be a transition period between now and when standards are fully adopted and every software package becomes fully fluent in them.  After all, "The hope is … that e-submission of data to FDA will make it easier for agency reviewers to examine disparate information on different drug classes, and to monitor safety issues related to therapies new to the market." as Ms. Wechsier emphasizes.
Until then, the use of standard compliant mediated solutions or iPaaS (Adaptive eClinical Bus) is the best approach.  It offers a validated, compliant, easy to use and cost effective approach to transferring and sharing data even among disparate systems that originally were not designed to "talk" to one another.
Learn more about how Adaptive Clinical Systems can help improve the interoperability of your clinical trials and help streamline your clinical trial process. Click here to learn more.
---
Interested in the article, CDISC Standards Key to Meeting FDA Regulations, Research Goals?
Read the full article by By Jill Wechsler: