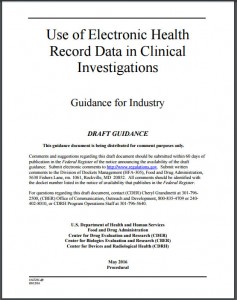 With increasing market interest in clinical trial data system interoperability and integration, Adaptive Clinical Systems was in attendance at the eSource Stakeholders Group Meeting held on March 18th, 2016 in Silver Springs Maryland. This conference has a long tradition of uniting key players from the private equity, venture capital, and entrepreneurial communities, as it highlights emerging markets, capital resources, and growing innovation in the Greater Philadelphia Region.
Adaptive Clinical's CEO, Sina Adibi, had the opportunity to discuss the technology behind he Adaptive eClinical Bus – software providing cost-effective and seamless integration of EHR/EMR, EDC, CTMS, and medical device data.
The eClinical Bus supports the FDA's guidance for clinical trial data systems interoperability by providing all of the benefits cited by the FDA including:
Eliminating duplication of data by capturing and transmitting electronic source data
Auto-populating electronic study forms from EHRs
Reducing transcription errors and improving the quality of data
Encouraging entering source data at the point of care
Facilitating remote monitoring of data to reduce the number of onsite visits
Improving site monitoring to minimize the need for cross-reference data in multiple sources
Making it easier for investigators to conduct clinical research
Facilitating the inspection and reconstruction of clinical investigations by FDA
Click here to view the FDA Guidance for Industry
Adaptive Clinical's validated data integration technology has been adopted by many clinical trial companies because it offers automatic data checks, validation rules, and optional data-coding features that save time and significantly reduce data entry errors resulting from paper CRF's.
The software also helps maintain regulatory compliance and close oversight.  All data is housed in the strictest compliance with all privacy and security provisions of HIPAA, GxP, and 21 CFR Part-11.  Furthermore, detailed audit logs and reports empower DM and QA staff to maintain rigorous oversight of all data at any time.
Click here to learn more about the Adaptive eClinical Bus®.
Contact Adaptive Clinical to schedule a demo.