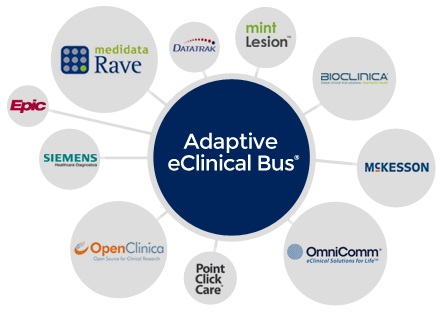 The Adaptive eClinical Bus® gives you the freedom to choose the best eClinical tools of any third-party or proprietary systems while enjoying all the benefits of a fully integrated system.
---
Look below to discover the many clinical trial tools, EDCs, EMRs, Medical Imaging Systems, and Analytics Tools that the eClinical Bus integrates with to help your clinical trials achieve maximum interoperability.
The Adaptive eClinical Bus® integrates with the leading clinical trial tools.
Electronic Medical Records (EMRs)
eClinical Technology & Integration
Clinical Trials Tools
Adaptive EDC
Openclinica EDC
OmniComm EDC
Clincapture EDC
Medidata Rave EDC
Medrio EDC
Clinical Conductor (Bio Optronics) CTMS
OnPoint CTMS (BioClinica)
ExpressEDC (BioClinica)
IMPACT-CTMS
Electronic Medical Records
athenahealth
PointClickCare
FrameworkLTC
EPIC
Cerner
Allscripts Healthcare Solutions
Medical Imaging Systems

Mint Lesion
Oncotrac Medical Imaging Analytics
mimVista
Myrian (Intrasense)

Intelemage (Medidata)