Adaptive Clinical's CEO, Sina Adibi, had the opportunity to present at this month's Life Sciences Annual Collaborative Meeting on June 3rd, 2015.
What is the Life Sciences Collaborative? The Life Sciences Collaborative is a select group of industry veterans and executives from the pharmaceutical, biotechnology, and medical device sectors, and industry service providers who share a common vision of increasing the success of emerging life sciences businesses in the Mid-Atlantic Region.
The Adaptive eClinical Bus® provides a cost-effective and seamless integration of EHR/EMR, EDC, CTMS, medical device, and other data that supports the FDA's guidance and provides all of the benefits cited by the FDA including:
Eliminating duplication of data by capturing and transmitting electronic source data
Auto-populating electronic study forms from EHRs
Reducing transcription errors and improving the quality of data
Encouraging entering source data at the point of care
Facilitating remote monitoring of data to reduce the number of onsite visits
Improving site monitoring to minimize the need for cross-reference data in multiple sources
Making it easier for investigators to conduct clinical research
Facilitating the inspection and reconstruction of clinical investigations by FDA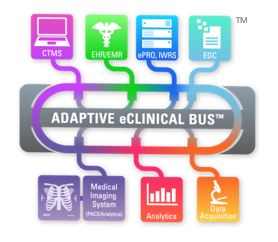 Adaptive Clinical's validated data integration technology has been adopted by many clinical trial companies because it offers automatic data checks, validation rules, and optional data-coding features that save time and significantly reduce data entry errors resulting from paper CRF's.
The software also helps maintain regulatory compliance and close oversight. All data is housed in the strictest compliance with all privacy and security provisions of HIPAA, GxP, and 21 CFR Part-11. Furthermore, detailed audit logs and reports empower DM and QA staff to maintain rigorous oversight of all data at any time.
Click here to learn more about the Adaptive eClinical Bus®.
Contact Adaptive Clinical to schedule a demo.