CASE STUDY
The Challenge
A leading managed care facility recently migrated to a new pharmacy management system, FrameworkLTC.  The facility's EMR platform, PointClickCare (PCC), did not provide a means to easily integrate prescription medication orders from PCC to FrameworkLTC, nor did the pharmacy management system have a mechanism to help ease the integration.  The result was a highly manual process that required caregivers to record medication changes in the EMR system while keeping a log of those changes manually.  At the end of each day, the list of changes was faxed to the pharmacy for fulfillment.  The pharmacy would then manually enter the information from the faxed data into FrameworkLTC, address the prescription requests, and then deliver the medications to the facility.  The facility's caregivers would then recall the patients' records in the EMR, update the recrods from the information received, and note any discrepancies (e.g., prescriptions requiring physician authorization before fulfillment). The process was cumbersome, it duplicated effort and data, and was prone to errors and miscommunication.

The Adaptive Clinical Solution
The facility approached Adaptive Clinical Systems to determine if an automated solution could be developed.   Working with the caregivers who process the information, Adaptive Clinical developed a solution that directly integrates the EMR and pharmacy management systems data using its compliant and validated Adaptive eClinical Bus®.  Now changes to prescription medications initiated in the EMR system automatically invoke a process developed by Adaptive Clinical that intercepts the request, extracts the pertinent pharmacy information, and submits it to FrameworkLTC.  As the prescription information is updated in the pharmacy system, the data is captured by the process and updated in the EMR.  The new process is practically invisible to users of each system, does not interfere with the functionality of either system, and required no additional training of users.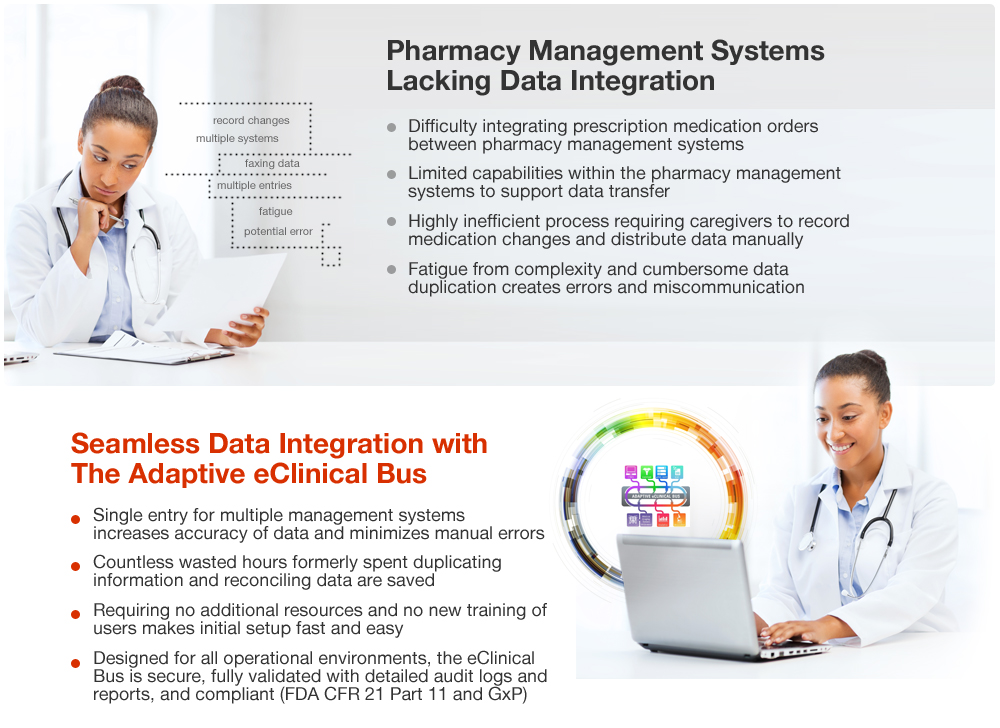 The Result
A tedious manual process that was time-consuming and prone to errors is now a seamless and efficient function, requiring no additional resources, no new training of users, and best of all, is highly accurate.  The integration was completed quickly, and has enabled the facility to save countless wasted hours formerly spent duplicating information and reconciling data.