Join us for a free webinar on best practices in integrated risk management. Hear how your peers are addressing the issue of security, interchangeability, and managing risk in their clinical trials.
When: Thursday, September 7th at 2pm EST
Cost: Free!

Doing nothing is not an option.
If you're like most clinical trial managers, the pressure is greater than ever to make a true assessment on the data integration within your clinical trials and the way you manage risk within them. After all, the success of your business depends on it. On September 7th at 2pm EST, we will hold a FREE webinar discussing trends and best practices in addressing integrated risk management within your clinical trials.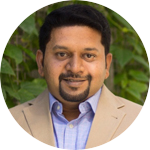 Guest speaker for the webinar is Nithiya Ananthakrishnan, Founder and CEO of Algorics.  Nithiya is an industry expert who has helped to launch Acuity, a powerful and flexible data aggregation, visualization and analytics platform driving actionable knowledge in real time. Pioneering research in actionable intelligence applications for Pharma, Biotech, CROs, Nithiya will speak on the four key components to achieving compliance with ICH E6 R2.
Interested in joining the webinar?  
Click here to register for this informative discussion.