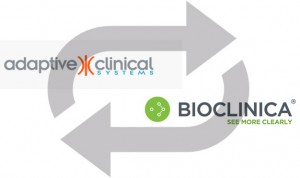 Adaptive Clinical Systems now integrates with Bioclinica's specialty clinical trial technology to deliver the next generation comprehensive cloud solution package.
Adaptive Clinical, a validated and cost-effective solution for clinical data interoperability, and Bioclinica®, Inc., a specialty clinical trials technology and services provider, have partnered to provide a comprehensive end-to-end solution to clinical trial operations seeking to optimize their data integration efficiency and interoperability.
Over the course of the last year, Adaptive Clinical Systems improved its Adaptive eClinical Bus® to work hand-in-hand with Bioclinica's clinical trial management solutions to offer data integration technology that is cloud-based, highly scalable, and , most importantly, complies fully with various regulatory requirements as it relates to clinical trial data management. Most recently, in conjunction with the launch of OnPoint Direct, the newest addition to Bioclinica's eClinical Suite, Adaptive Clinical expanded its Adaptive eClinical Bus to include full support for OnPoint Direct.  The result is a seamless solution for Mid-size CRO's and corelabs offering the freedom to choose the best eClinical informatics systems such as electronic data capture (EDC) and clinical trial management systems (CTMS).
Together the partnership brings a flexible delivery model that fits any organization regardless of size or study volume – and allows clinical studies to be setup with even greater efficiency and speed.

About Bioclinica
Bioclinica is a specialty clinical trial services provider that accelerates the development of new medical therapies. Among their many clinical trial solutions, Bioclinica's new OnPoint CTMS offering is a powerful end-to-end clinical trials management solution that brings control, efficiency, and quality data to every study. This web-based CTMS works on the go, letting you view and manage real-time operational performance — wherever and whenever.

About Adaptive Clinical Systems
Adaptive Clinical Systems offers a unique, simple, secure, validated, compliant, and cost-effective innovative solution for clinical data integration and interoperability. The cloud-based innovative Adaptive eClinical Bus® solution integrates clinical study data from multiple systems and platforms — EDC, eCOA, CTMS, Medical Imaging, IRT, analytical/data visualization systems and others — to ensure accurate and efficient transfer of clinical data for any study of any complexity while going well beyond simple and difficult to scale integration to full, real-time interoperability.
The award-winning Adaptive eClinical Bus software includes "connectors" for many leading clinical trial software tools from well-known vendors such as Omnicomm, Medidata, BioClinica, and Clinical Conductor to open source clinical trial tools such as OpenClinica and Clinovo. Connectors can also leverage internally-developed and proprietary systems and help customers retain their competitive edge. Adaptive Clinical's eClinical Bus® can easily integrate technology into an interoperable, efficient, and accurate clinical trials system that streamlines processes and improves data reliability and offers the freedom to choose the best eClinical tools of any third-party or proprietary systems while enjoying all the benefits of a fully integrated system.