Adaptive Clinical's eClinical Bus® Solution now integrates with Bioclinica's OnPoint Direct Clinical Trial Management System (CTMS) to help clinical trial operations optimize their interoperability.  This pairing of data management systems delivers a fully comprehensive clinical trial solution without the extensive setup time or capital investment. The validated data integration technology offers automatic data checks, validation rules, and optional data-coding features that save time and significantly reduce data entry errors resulting from paper CRF's.
"Our emphasis on interoperability allows users to not only move data from point A to point B, we call that simple integration, but also to codify complex clinical data processing as the data is moving from one system to the next," says Sina Adibi, President and CEO of Adaptive Clinical Systems. "Our Adaptive eClinical Bus is designed to break down these silos and allow interoperability amongst disparate systems."
The integrated software solutions combine to help maintain regulatory compliance and close oversight.  All data is housed in the strictest compliance with all privacy and security provisions of HIPAA, GxP, and 21 CFR Part-11.  Furthermore, detailed audit logs and reports empower DM and QA staff to maintain rigorous oversight of all data at any time.
The result is a comprehensive end-to-end solution for clinical trial operations seeking to optimize their data integration efficiency and interoperability. Together, the partnership brings a flexible delivery model that fits any organization regardless of size or study volume – and allows clinical studies to be setup with even greater efficiency and speed.
Click here to learn more about Adaptive's eClinical Bus Solution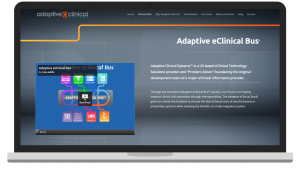 ---
Click here to learn more about Bioclinica's OnPoint Direct Clinical Trial Management System